Edible and organic gardening is on the rise and is easily a favorite hobby for many.  More and more people are discovering the wonders of having fresh produce right in their backyard; nothing beats a homegrown fresh herb, fruit or vegetable.  Although with any garden, comes the issue of weed control.  When it comes to edible gardening, it is very important to select the right mulching agent.
There are many different natural and organic ways to mulch your garden beds or vegetable garden.  Some options include cocoa shells, weed matt or composts.  Others choose to use newspaper, leaves, straw or grass clippings.  There are pros and cons to all these options, including the inability to allow the correct amount of water or nutrients into the garden.  Also, materials like straw, grass clippings and compost may add nutrients but they also bring many more weeds into the garden, creating more work.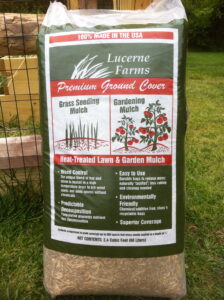 Lucerne Farms has introduced a Premium Ground Cover product that is an ideal natural mulch for any garden.  This natural, heat treated mulch is a mix of chopped straw, timothy hay and alfalfa hay.   This is a easy to use product and unlike a bale of straw, this product will leave no mess behind; it is packaged in a large plastic sealed compressed bale.  Premium Ground Cover gives a clean look to any garden and best of all, it naturally decomposes into the soil, adds nutrients and there no need for later clean up.
To put this product to the test, in order to make sure it is everything it has been talked up to be, we decided to do a little experiment of our own.  We used a bed planted with strawberry plants and mulched part of the bed in straw, the other part in Premium Ground Cover.  Already with the first step, Premium Ground Cover was in the lead.  The straw was messy and harder to handle, leaving behind quite a mess.  The Premium Ground Cover was extremely easy to use and was applied in half the time that the straw was, leaving behind no mess.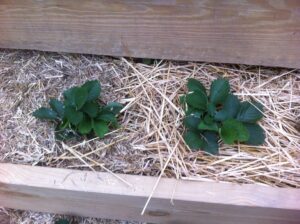 Two weeks later, our experiment was showing huge results!  Many weeds were growing up through the straw, whereas the Premium Ground Cover was still weed free and looking great.  So the winner is… Premium Ground Cover.  We even tested it on some newly spread grass seed, which works like a charm.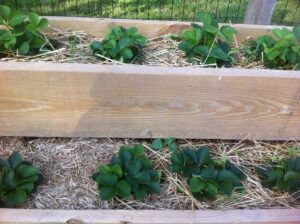 This product is definitely a winner and something every home gardener should use.  Premium Ground Cover is available in our store, so stop in today to pick up a bag of your own – you will not be disappointed!