Create an oasis right in your backyard.
Fountains and ponds are a great way to add a classic accent to an interior or exterior space.  People have always used their backyards and spaces around their homes as a place to escape and relax.
The addition of a water feature adds an extra dimension to your space.  Whether it's the soothing sound of a small burbler or fountain on your deck or patio, the spray from a large fountain or the constant sound of water flowing over rocks on a waterfall, the element of water creates a refreshing oasis that is always right at home.
Historically, fountains served five main purposes: a source of water, a meeting place, a cool mechanism, a source of masking white noise and decoration.  Today, fountains can be used for just about all the same reasons.
Whether you are practicing feng shui or looking to create a pleasant sound scape, a fountain or water feature creates instant serenity to your home.
With so many sizes, shapes, colors and designs to choose from, there is one to match any home's style.  From grand three-tier fountains for a major focal point, to a simple round zen oval fountain, it is so easy to add tranquility into your home and gardens.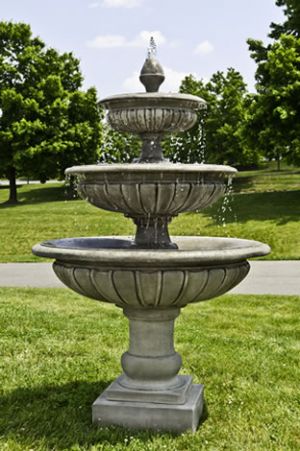 Ponds with flowing waterfalls, graceful rock features, and flowering, lush, plants brings the joy of life and nature to any backyard.  Additionally, adding the art of koi to your backyard pond can bring joy all of its own.
Perhaps the most exciting feature of a backyard pond is the wildlife it brings.  From butterflies and bullfrogs to dragonflies and songbirds, a pond, no matter what its size, builds its own beautiful ecosystem, and the best part of all is it is right in your backyard.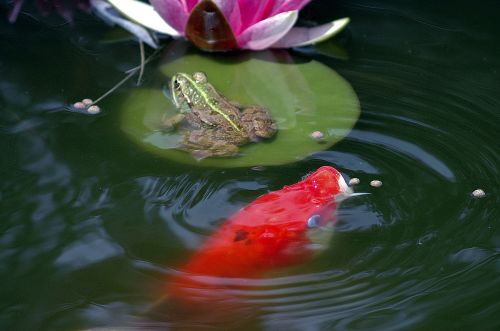 MAINTENANCE, CARE AND SUPPLIES
As beautiful as every water feature is, unfortunately the beauty does not always come maintenance free.  That is why our team at Froehlich's Farm is here to help to keep your fountains, ponds, and other water features looking their absolute best.
We offer a full line of pond care treatments, fish food, pond plants and other accessories here at the farm including:
Pond Plants

Floaters, Water Lilies, Natives & Tropicals

Aquatic Plant Food
Pond Fish Food
Koi Food

Spring & Autumn & Summer Staple

Pond Algaefix
Pond Accu Clear
Pond Stress Coat
Pond Quick Start
Pond Barley Clear
& More!