Make sure the grass is greener on your side.
Your lawn is more than a just a plot of land, it's your home turf and an extension of your living space where your kids play, your dog runs and what surrounds your home.
Like any other part of your home, you take pride in its appearance, that's why our team at Froehlich's Farm is here to ensure you have your best lawn on display!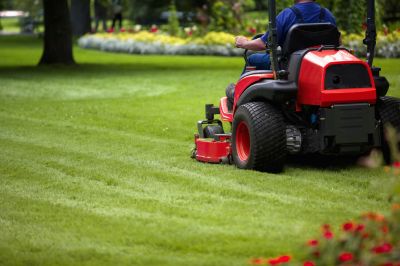 Whether you have full sun, full shade or a mix, we will help you select the best grass seed, fertilizers and treatments, both conventional and organically, for your lawn.
Let our lawn care professionals design a personal lawn care program just for you.  We stress environmentally sound and responsible ways of creating a beautiful lawn all year round.
Seasonal Product Recommendations:
Early Spring: Crabgrass control, concern corn gluten, weed control and pelletized lime and calcium.
Late Spring: Organic lawn fertilizers and grub control.
Summer: Conventional and organic insect control options, grub control (helps to control the next generations of grubs).
Early Fall:  Apply new grass seed to lawns, new seedling fertilizer, weed control, pelleted lime and calcium and Green-Up Fertilizer.
Late Fall: Winter survival fertilizer and Green-Up fertilizer.

Why should you integrate organics into your lawn feeding program?
Through the use of organic substances, the benefits include improved disease and insect resistance and improved heat and cold tolerance. Organic products will also improve your lawn soil's biology.
The soil will become more permeable and alive, allowing water, air, and grass roots to penetrate into the lawn soil more deeply and ultimately establishing a better foundation for grass to flourish.