Native plants have grown in the region well before the Europeans arrived.  Over the years native plants have co-evolved with animals, fungi and microbes, creating a solid foundation for our native ecosystems and communities.  They include a range of ferns, grasses, perennials and annual wildflowers.  Also, included are trees, shrubs and vines that were here in 'Penn's Woods,' when the first settlers arrived.   Today we include over 2,000 native plant species known to be in Pennsylvania.
As environmental issues continue to form that strain our local ecosystems, the presence of native plants in our landscape is an ever growing importance in order to combat our large carbon footprint.
In recent years we have seen a decline in native bees and monarch butterflies, largely to the effect of environmental issues.  By planting native species back into our landscapes, we help restore our local ecosystems, providing many benefits for ourselves and our environment.
Native plants are the cornerstone of biological diversity.  Countless benefits come from using native plants in the landscape including less use of fertilizers, fewer pesticides, easy adaptability to our soil, less watering, cleaner air and providing shelter and food for wildlife and pollinators.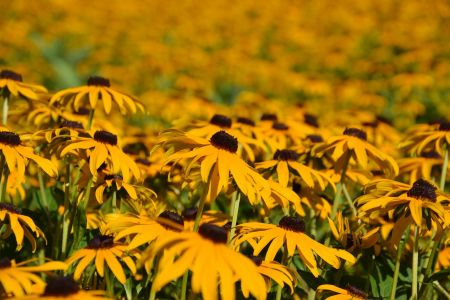 Here on the farm we have an extensive selection of native plants available for all of your landscape and garden needs.
Some of our native favorites include:
Beautyberry
Butterfly Milkweed
Clethra
Dogwood
Echinacea
Redbud