We are currently carrying Energex & EasyBlaze pellets
- Premium, high heat, low ash, low moisture & eco-friendly pellets -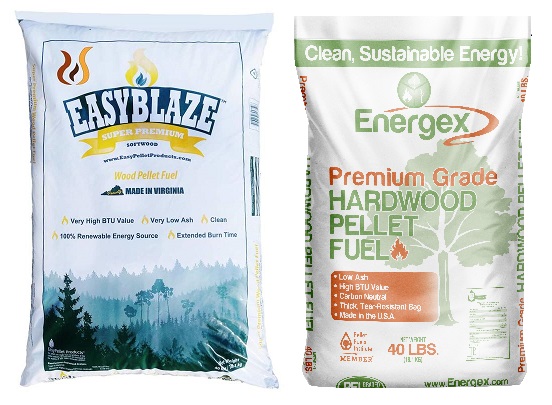 Easyblaze Softwood Pellets           Energex Hardwood Pellets
ASH CONTENT:  Easyblaze: 5% – .6%                |              Energex: .25% – .4%
BTUs:    Easyblaze: 8,900+         |              Energex: 8,500+
At Froehlich's Farm we believe in high quality pellets that burn clean and efficiently, while offering the best heat for your home. Most stoves today are built to burn hardwood or softwood pellets, so selecting a pellet is more about personal preference and which pellet brand burns best in your stove. This usually depends on the quality of pellet, rather than the components of hardwood vs softwood. While hardwood has always been a popular burning option, softwood pellets generally have a higher heat output and lower ash. The pellets we carry are tried and true performers that have been customer favorites for years.
Are you a first time pellet user or have a new stove?
We recommend burning a few bags of 2-3 different brands to see which is the best fit for your stove. 
Ash content: The amount of ash produced during combustion relative to the amount of fuel fed into the wood pellet stove. Ash content is one indicator of quality for wood pellet fuel. Ash content for wood pellets should be between one and three percent.
BTU: A BTU, or British Thermal Unit, is a measure of heat content or thermal energy. One BTU is the amount of energy needed to heat one pound of water one degree Fahrenheit, measured at its heaviest point. For most people, a BTU is simply a gauge and way to compare the cost and efficiency of various heating and energy-producing technologies.
Fines: The scrap bits and pieces of broken pellets typically found in the bottom of the bag.

Moisture content: The total amount of water in a biomass fuel given as a percentage of the total weight of the fuel. Wood pellets, for example, typically have up to six percent moisture content, while woodchips have 40 percent and heating oil has zero percent.
Energex Pellets: $7.00/bag  |  $295.00/ton
Easyblaze Pellets: $7.50/bag  |   $310.00/ton
Pellets are available for sale by bag and per ton
WE DELIVER LOCALLY!

Our standard pellet delivery includes hand stacking bags onto pallet.
We will hand stack any pallet inside a shed or garage with truck access.
Local delivery (within 8 miles) begins at $30.00. Please call for quote.
*Delivery only available within 12 miles of our location*
Contact us today for a delivery quote
*During our winter store hours (January – March), we still offer deliveries throughout the week.  Contact us here or leave a message at the store and we will return your call as soon as possible to schedule your delivery or pick up.*